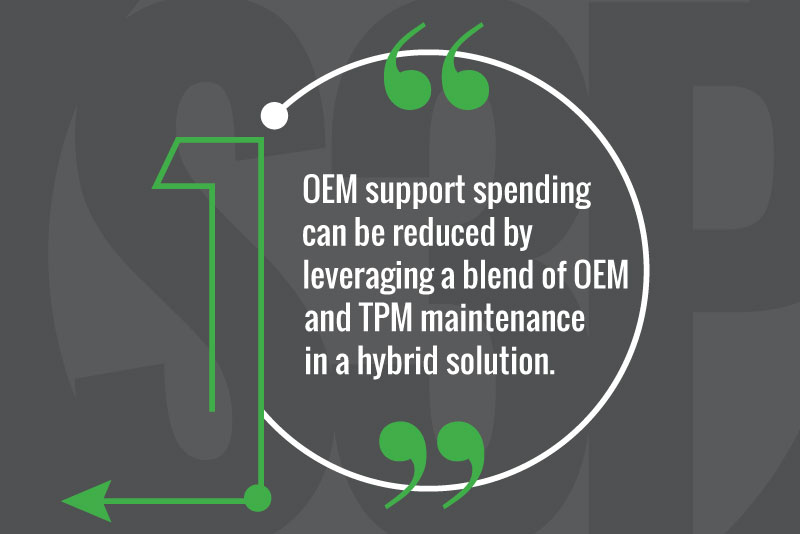 18 Feb

It's Time for Hybrid Maintenance Strategies to Include Third Party Maintenance

According to The Gartner Report, hybrid maintenance strategies that use both OEM and TPM (third party maintenance) are becoming the standard in the hardware support market. There is an ecosystem of independent support providers for server, storage, and networking equipment. End-user customers are selectively using TPMs to cost-effectively extend the life of IT assets, manage or delay OEM-forced upgrades, and save money. (1)

Would you place all of your personal savings in a single stock? I didn't think so! You would allocate your investments to maximize profit and minimize risk. The same tactics work for a Hybrid Maintenance Strategy. Ultimately, it's about making safe, smart decisions regarding IT hardware maintenance, and Smart 3rd Party understands how to help.

In the beginning of the assets' lifecycle, companies purchase OEM support together with the equipment in the first 1-3 years. OEM maintenance is cheap. Hardware parts are scarce and expensive, and updating software and firmware can be even pricier.

After 4-6 years, companies begin switching certain assets to TPMs rather than renew the OEM support contract once the original warranty runs out. This is often due to the significant price increases in OEM post‑warranty pricing. OEMs are businesses, businesses that have their own agendas and need to make sales and profit to survive. They have you in a tough spot—in order to ensure your hardware is protected you must conform to their warranty, end‑of‑life timeline, support services, and refresh cycle. That is why the best option for your company is to include TPM in your hybrid maintenance strategies.

After 7 years, OEMs start announcing end of life (EOL) and end of service (EOS) cycles. At that point, 100% of assets have been moved to TPMs. The risks of using TPMs are low, and the rewards are much higher—saving 50% to 85% on maintenance costs.
Using a TPM can have significant benefits, including hard dollar savings, the ability to escape OEM post warranty maintenance increases, the ability to extend the life of IT assets and having additional flexibility in contract structure! (2)
Maximizing your hybrid maintenance strategies is a crucial competitive advantage as the industry increases pressure on minimizing price. The Gartner report is a great place to start your research; find and download the report here.